AIM kembara award 2010.
t
Photos credit to it respective owners.

sorry bunkface. No offence i admire their talent and hardwork, and yeah they are cute and adoooorable.But personally my pick for this year AIM kembara award shall goes to none other than ZEE AVI!
so what if the award requirement only goes to local artist signed with local label. Zee Avi obviously made a HISTORIC buzz since 2008, from the Youtube phenomenal popularity something rarely gain by local musicians.
What about POP SHUVIT? during their hype years of fame where the guys had a lil success in japan and ASEAN with huge exposure on MTVAsia back in 2007? And whats wrong with having more than 1 kembara recipients if in that particular more than 1 local artist had bring fame to not only to themselves but to the image of our local music industry and country name in a global scale?
If the juries scaled Bunkface lil fame in maldives/australia and lil exposure on channel V deserve a trophy, what about One Buck Short and Pesawat?
Seriously? if Zee signed with any local label, i dont think she will be able to gain popularity from south africa to japan in a just a short period.
with historic publicity on billboard,rolling stones, charting itunes and billboard international charts. Zee Avi not only has raised recognition to local talents, spurs interest on this lil country known as malaysia, but most importantly has motivate her peers to work even harder to stamp their own name at the global industry.
And isn't that something that local music industry fighting all this years back then?
Bunkface local success last year isn't comparable to what has been achieved by ZEE AVI herself. Bunkface is great,talented, but i guess it is still too early for them to win such award, perhaps maybe next year if they really make waves overseas gaining recognition from international fans and media, with gigs and concert invitation from international organizers.
It just sad, knowing ZEE AVI who has been invited to join the famous
lilith fair tour
in the USA(2nd asean artist to perform after Anggun) were left under the radar. She has extensively tour not only in many corners of USA(
checked out her tour schedule
), but has perform in UK, Singapore, Australia. Not only that, her songs grace many TVC commercials in not only the US but also Denmark. A modest, but still a milestones achievement for local talents.
Malaysia is really a weird country. No wonder, many talented Malaysians in many fields that has venture overseas doesn't really interested to return home.They, were misunderstood, doesn't received a rightful recognition and encouragement for their talents, moreover many of them were judged by local skeptics,demoralize with words of dis encouragement for being different.
If this classic episode continues, who knows perhaps Malaysia will lost it legal ties with Zee Avi just when Indonesia lost it legal ties with Anggun when the singer finally change her Indonesian citizenship to officially and legally be a french citizen.
Honestly one cannot denied that the AIM this year is hungry for higher ratings trying to appeal to a younger demographic, hence the applauding red carpet encouragement given face to the truly deserving with a commercial/mainstreams exposure acts such as YUNA, Bunkface is somewhat positive and rightful thing to do comparing to previous AIM winners for english album that usually given to an unknown non commercial acts such as Rabbit(2001) to name a few, which ironic until today their names still remains unrecognise by general public except by musicians or people working in music industry or their friends.
AIM should rebrand and reposition itself as a organisation who not only encourage and reward truly deserving existing mainstream artists and young and hopefuls talented indie musicians but they also must strategies plans to encourage and motivate the local music makers and shakers to ensure growths and quality improvements in terms of music production, promotions, encourage sales and image to the local music industry itself both locally or globally.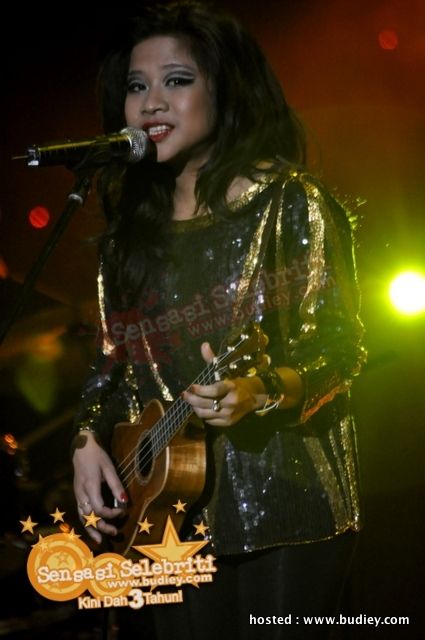 Photos credit to it respective owners.
Comparing to Anugerah Juara Lagu, Anugerah Bintang Popular and few others commercially driven awards shows in Malaysia, AIM should be more than just a fancy dress glits and glamour party. With only 17 years of award presentation, I cant help but wonder, does really reach out and create platform to encourage and nurture our local talents to achieve greater success or just simply just an award show ceremony who, i believe with or without AIM,their show, can still continue.
Again, If Jennifer Thompson still want to defend Anugerah Kembara category to be given to local artiste signed to local label, i guess the credibility of the award will continue to remain as a joke to honor jaguh kampung to the recipient when many talented local musicians has now started to stamping their marks overseas on their own with or without recognition from AIM, local media or reporters as they, doesnt recognize anything outside the world behind their own rigid and small walls.
Labels: anggun, bunkface, one buck short, review, zee avi