Hachiko. A Dog's Story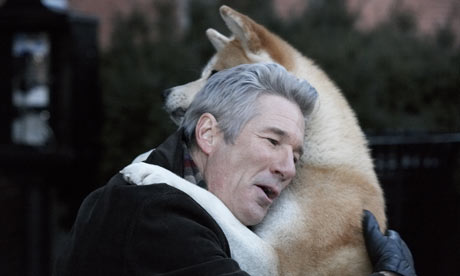 Just had my chance of watching 'Hachiko, A dog story'. Few of my friends recommended the movie as a must watch. So i give it a try when i saw it on HBO. It was an overwhelming story about an akira dog named Hachiko to his owner named Professor Parker(Richard Gere). The two, made a special bond in a almost remarkable way. Well i dont want to dish out more cause you have to watch it yourself. I was in tears. I was even more surprised seeing the end credit where it turns out the movie was adapted based from the true story that happened in Japan 1920s-1930s. I goggled and the amazing stories continues.
This is the real Hachiko, it body is preserve and display at Ueno National Science Museum!
Hachiko bronze statue at Shibuya Train station, the actual location where the historic story took place.
There's a japanese movie made in 1987 titled Hachiko monogatari to honour the story!
In additional to that, the story of Hachiko has become part of japanese culture, it become part of Japanese morale text book and the heartwarming story was also adapted by other authors, translated in other languages.


Hachiko, A Dog's Tale official trailer.


This movie is definitely a must watch. If Richard Gere a manly macho man cried everytime he read the script of this movie, im sure you will too. unless korang hati batu. anyway get a box tissue on standby. hehehee

Labels: movie